Teens & Young Adults
The library is a bustling after-school space for teens and young adults, and hosts programs and events for teens on an ongoing basis.
Kendall Chapman, BHPL's Ruth Slaven Teen Services & Outreach Librarian, supports teenagers around the peninsula with programs and services designed for them, in collaboration with the library's Youth Services Librarian, Claire Malina.
Check out Kendall's weekly blog for updates on all things teen services!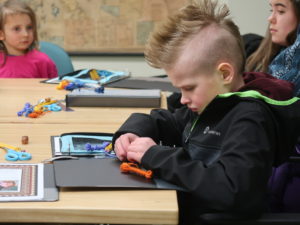 Crafternoons– Last Saturday of each month, 1:00-3:00 PM
The library hosts a different craft project every month. No experience is necessary and all materials will be provided by the library. All ages are welcome.
D&D Group– Every first and third Thursday, 3:00-5:00 PM
Ages 12 to 18 are invited to play the beloved game Dungeons & Dragons, with new members always welcome. Participants can make their own characters and play an adventure full of magic and mayhem. No experience is needed, just imagination and fun. All supplies are provided, but participants are welcome to bring their own.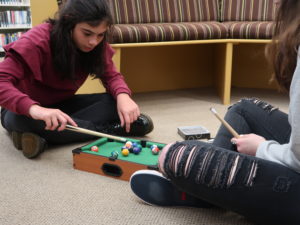 Games Galore!– Last Friday of each month, 3:00-4:00 PM
Ages 8 and up can hang out for an hour of game time with the library's collection of board games, card games and puzzles, while enjoying snacks and music. The library has an extensive collection of games, including Monopoly, Exploding Kittens, Jenga, Sorry!, Yahtzee, Labyrinth, and many more.
Diverse Universe Book Club– Fourth Thursday of each month, 4:00-5:00 PM
Ages 12 to 18 can join a new teen book club, "Diverse Universe." The group reads books or graphic novels with diverse themes centered on mental health, LGBTQ+, race, gender identity, and sexual orientation. The group will discuss whether they were inspired by the stories, and how the themes relate to society and their own lives. Everyone is welcome to join in this fun, lively discussion and snacks, even if they haven't finished the book.