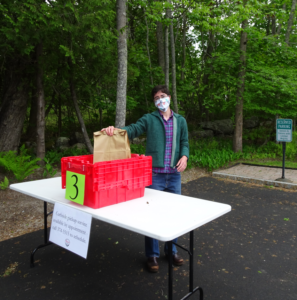 The library is happy to offer many curbside services. We are here to help you! You can call us at 374-5515 during our open hours or email library@bhpl.net any time for personal assistance. Here is some general information about available services:
Computer Use & Internet Access
In addition to public computers indoors, we are lending Chromebook laptops to use in your car or outside. Call us at 374-5515 upon arrival and we can bring one out for you. These laptops will allow you to browse the internet, check your email, and edit documents using the Google Docs suite of products.
The library wifi is on 24/7 and stretches far across the grounds and parking lot. You can access the "BHPL Open" network with no password needed.
Printing
If you have any smartphone or tablet, or a Mac laptop computer, you can print wirelessly straight from your device, even from outside. Call or email us for instructions, and once your job has printed, we can run it outside for you.
If you have a PC laptop or you want to send us a print job ahead of time, email it to printthis@bhpl.net with instructions (how many copies, double/single-sided, color or black-and-white, etc.), and when you would like to pick it up, and we will take care of it and make arrangements with you for pickup and payment.
Copies, Scanning, & Faxing
We are happy to run copy, scan, and fax jobs for you. Call us from outside and we can come out to pick up your originals and take payment, then return them to you with copies when finished.
Curbside Lending & Home Delivery
To request items for curbside pickup, simply call 374-5515 to speak with library staff, place a hold in our online catalog, or use our Book Bundle form to make a general request. You can also request items to be sent from other libraries through MaineCat.
We place items out for half-hour slots at your convenience during our open hours. Scheduling a pickup time in advance is appreciated, but it's also fine to call from outside and we can bring your items out on demand.
If you can't get to the library, we are still offering contact-free home delivery to patrons around the peninsula and Deer Isle. So, if you're not feeling well, are concerned about exposure, or for any reason can't get to the library, give us a call, please.
Browsing the Shelves
While the building is open for browsing, we are also happy to have a "personal librarian" browse for you while talking on the phone or by video call. We have lots of good suggestions! You may also find this series of catalog tips useful for browsing virtually. Check out what's new to our shelves by looking at online lists for general items, young adult, and children's.
Digital Collections
The library offers collections of e-books and e-audiobooks accessible from anywhere with your library card, as well as language-learning and database access. Learn more on our Digital Services page.
Technology & Reference Help
Our "virtual information desk" is open. If you have questions – about anything – the library can help answer. Email refdesk@bhpl.net or call 374-5515 x11.
And if you need assistance with managing your new "virtual life," library staff are here to help you with video-conferencing, converting to digital, or any other technological challenges you may be experiencing. Call 374-5515 to set up a one-on-one remote session with a live human being. You may also get some of your questions answered by looking through recordings of our past technology workshops.
Online Programs & Events
The library is hosting online events for all ages, both live and pre-recorded. You can see more information or register on our calendar. We also invite you to view recordings of past programs for adults and young people, or join the "Blue Hill Peninsula Chess Nuts" team online if you miss playing chess at the library.
Help Us Help You
The bottom line – we are ready to bend over backwards to meet your needs around access to information, library services, and community. If our current offerings don't do the job for what you need, please get in touch so we can work together to find a way to serve you safely.