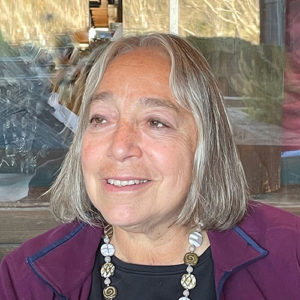 For Shelly Kehl and her husband Jeff, their first glimpse of Blue Hill was love at first sight. It occurred in 1975, when they accepted an invitation from a friend who lived on the Blue Hill peninsula. Shelley and Jeff have never spent a summer anywhere else since.
Shelley and her husband are lawyers in New York City who represent colleges, schools, school systems, and cultural and social service organizations. Shelley started life as an academic and continued to teach at the graduate level at New York University until a few years ago. Like so many others who have relocated to the Peninsula seasonally or permanently, the experience has been life-altering. "That first weekend we walked around Blue Hill with our friend, a university librarian, who made sure to show us the Blue Hill Library," Shelley explained. "Soon after, we bought our cottage in Surry and stopped at the library to get a library card."
They were particularly grateful to have their children spend their summers in Maine. Shelley said it was the perfect antidote to their children's life in Manhattan. "Tidal pools and sailboats were the definition of the perfect summer life," she said. "They loved the library because it provided a steady supply of books and programs, even though that was before the new children's wing was built." Shelley also said she is looking forward to having their grandchildren visit so she can introduce them to the library's wonders, and looks forward to sharing one of her favorite sights and experiences.
Shelley and Jeff have become highly engaged in the Peninsula's community life over the course of their 40 years in Maine. They maintain year-round involvement, doing so remotely as necessary. Shelly is on the library's board and currently serves as its treasurer, a volunteer position. The Kehls also lend their considerable skills and knowledge to several other causes and organizations in the region. They have found those experiences deeply meaningful. "We have made many dear friends in Maine and feel like part of the community." — By John Diamond