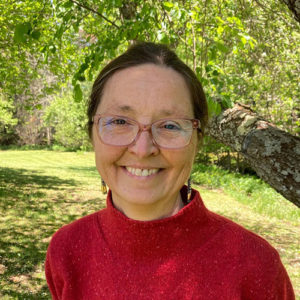 Jill Knowles came from Brooklyn, NY to Brooklin, ME in 1987 with her husband Paul Sullivan just for vacation.  Like so many of us, they fell in love with Maine and this beautiful peninsula and decided to move here the next year. In NY Jill had been active in theatre and fund raising for off-Broadway productions, when they moved, she switched to marketing and began working for Paul's River Music Label.  She "reinvented" herself here, not only with River Music, but with many other career experiences. Jill has also worked as an antique dealer, managed estate sales, and is currently a very busy real estate professional. This change also allowed for her and Paul's son Henry to grow up here and discover a passion for firefighting through the Blue Hill Fire Department. He's now a firefighter in DC.
Among the many things that brought Jill to Blue Hill, most prominent is the small town sense of place. You can run into friends and neighbors constantly, where this connection is woven into all aspects of life. She also loves the library, its wide range of activities and its critical role in the community, Jill hopes that her efforts will contribute to the library being here "forever."
In addition to being a library board member, she currently chairs the very busy Development Committee, serves on the Plant Sale and Paint the Peninsula subcommittees, and is a member of the Governance and Executive Committees. We are extremely lucky to have her energy, creativity, organization skills, and dedication to the Library.