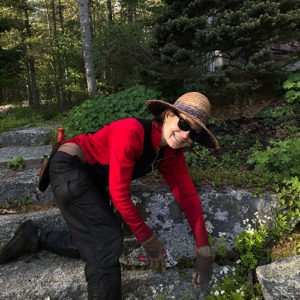 Eleni Koenka was born on the northern Aegean island of Thassos before immigrating to Chicago when she was at the age of four. Eleni and her family and lived there until she was 12 (the eldest of four loving siblings) when they moved back to Thessaloniki, Greece and stayed for Eleni's high school and college years, and where she later met David, her husband. David was a New Yorker traveling in Greece, leading Eleni to move to Maine to be with him (though she only recognized Maine from the mystery novels she read as a child) where they married two years later.
For Eleni, dance and movement are an important part of life.  In 1995 she began working at the Belfast Dance Studio, studying Afro-Caribbean, and West African dance, as well as continuing her studies in ballet, modern dance and more. She was substitute teacher for these modalities in addition to teaching creative dance to children. Currently her favorite form of movement is dancing salsa with her husband.
In 1996 Eleni and David founded Boundless Garden & Tree, a landscaping/grounds keeping company working on the Blue Hill Peninsula, only a few short years before their daughter Marena was born in 1999; she just graduated from Clark University.
Eleni has been on the library board since 2016 and is currently vice president. She has also served on the Buildings & Grounds, Development, and the Governance Committees, while working on the annual library's plant sale and the Paint the Peninsula event.  As of this writing she is reading Peter Mayle's Toujours Provence ("It's always soothing to have images of southern France in my head before I go to sleep") and Robert Lacey's Great Tales from English History ("one ridiculously majestic and horrible history-changing episode at a time as bedtime story"). — By Bruce Stahnke