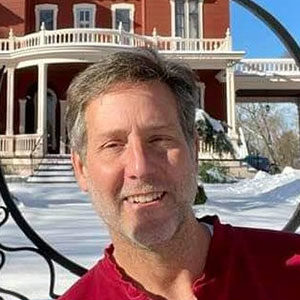 David first discovered the beauty of Maine during a sabbatical where he and his partner cruised up the coast. In 2016 they found a home to remodel on Salt Pond and have been full-time Blue Hill residents since 2018.
Before early retirement, David was a software engineer at Fannie Mae in Washington and part of a team that developed software most mortgage lenders currently use to underwrite home loans.
In addition to being an avid sailor, with more than one little boat on Salt Pond, David enjoys vegetable gardening, hiking and is learning to play the piano. He is frequently busy with active household member Jasper, his Australian Shepherd.
In addition to his many pursuits, David is also a volunteer for the Simmering Pot and Healthy Peninsula. He joined the library board in the summer 2020 and is a member of the development, personnel and governance committees. We are thrilled to have David as a member of the board. — By Pascale Soriano