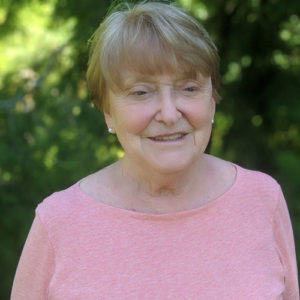 Callie Curtis began her love affair with Maine while attending Bowdoin College, where she became the second female graduate in that institution's history.  After college she joined the Peace Corps and spent time in Swaziland, South Africa. This post led her on to a career in public health, most recently with USAID programs in Africa.
Callie and her husband, Randy, lived in Washington DC. and summered in Maine, until moving here full time in 2015. Callie loves the natural beauty of the area, and the kindness of the people. Callie sees the willingness of her neighbors to give whatever is needed to each other, and to the planet. She also loves the intellectual and international connections of so many of Blue Hill's residents.
In her free time Callie enjoys taking part in a book club with mostly State Department retirees who had international careers. She says the books they pick to read are fascinating, and happily are all available in the Blue Hill Library!
Callie is a generously active Board Member. She the Chair of the Governance Committee along with the Development and Finance Committees and after being a longtime fan and supporter of Paint the Peninsula is helping to plan this year's event. —By Jill Knowles