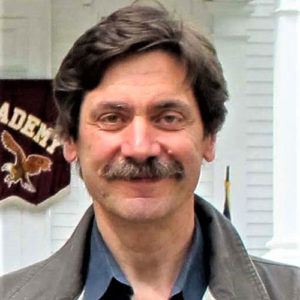 After living and working in Boston for 18 years (and commuting to Maine on Weekends for the last two of them), Bruce Stahnke, his wife and young son became year-round Cape Rosier residents in 2001. Their home began as a small cabin that they added onto to make room for the three of them.
Bruce grew up in Evanston, Illinois. He attended Washington University in St. Louis, initially to study art, eventually going on to study architecture. Bruce left Washington University with both an undergraduate and graduate degree in architecture and an unofficial minor in "The not so subtle art of expressing oneself using wry humor".
Bruce never gave up his passion for art and has had exhibitions in St. Louis, Chicago, New York, Nashville and Maine. Bruce and his wife established Stahnke + Kitagawa Architects shortly after getting settled in the area and are still at it today. A local example of Stahnke + Kitagawa's beautiful design work is The Blue Hill Coop on South Street.
Bruce has been on the Blue Hill Public Library board since 2016. He is active on numerous committees, including Buildings and Grounds, Governance, Collections and Services, and Strategic Planning. He also has been involved with the library for many years prior to serving on the Library Board. In 2006 he designed a renovation of the Children's Library and in 2008 he designed the Young Adult area upstairs. He has also worked on many smaller projects both inside the library and on the grounds where his wry (some might say subversive) humor is usually an asset. — By Greg Forrest