Hi everyone! Did you know it's Banned Books Week? Banned Books Week is all about standing up against censorship and bringing attention to frequently challenged and banned books. It might be hard to believe, but hundreds of books are banned or challenged all across the U.S. every year, with no apparent end in sight. What this week helps to do is remind us of the beauty of diverse books and our choice to read what we'd like.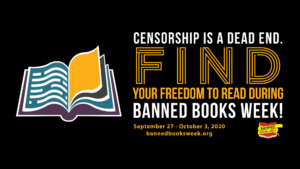 In my experience the most challenged or banned books are some of the best books. A good example is Harry Potter, a series beloved by many (myself included), yet it's the most banned book of the 21st century. Other popular young adult titles that have been banned include The Hate U Give, The Perks of Being a Wallflower, The Giver, Twilight, The Hunger Games and more; and that's just young adult books. Challenges are issued throughout the year on all kinds of books, adult fiction, children's picture books, graphic novels – the list goes on. So how can we lend our support to fighting censorship? Allow me to make some suggestions.
This may seem obvious, but READ the books. Look through this list of banned/challenged books or check out what's on the Top 10 banned list for 2019. Read it and then share it with your friends so you can discuss it together. Reading a book is some of the best support you can give to an author.
Participate in the Dear Banned Author Campaign – This program through the American Library Association provides you with the publishing house addresses of authors with banned books. You can write them a note or short letter to show them your support. Tell them how much you love their book and how much it means to you that you've been able to read it. The ALA even has printable postcards available!
Participate in or host a "read out" where you read aloud favorite passages from banned or challenges books. You could even just film yourself reading and post it to your social media with the hashtag #bannedbooksweek2020, then challenge your friends to do the same.
Share a story about how a banned book impacted you – here on the library's Instagram, some of our staff members are sharing their own experiences with banned books and how important they were for them to read.
Watch this video about Banned Books Week – You can join me on YouTube as I discuss the importance of Banned Books Week, a brief history on how it was started and share some popular titles that have been victims of banning. Then share what you've learned or the video with others.
This is a short list, but all of these things can be impactful in celebrating free expression. If you participate in any of these, please share! If you have questions or want to know more about Banned Books Week feel free to email me at kendall.chapman@bhpl.net. You can also find more information and fun downloadable content on the American Library Association's website. Happy Banned Books Week!