October 3, 2022 - December 31, 2022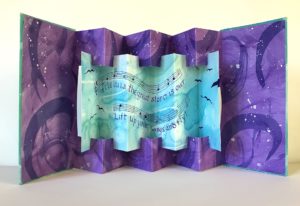 The Blue Hill Public Library will host an exhibit by the Midcoast Maine Book Arts Group from October 3rd to December 30th in the library's Howard Room glass cases.  Held in conjunction with the Blue Hill Word Festival, the show will feature artist books by 19 artists from Caribou to Portland, each addressing the intersection of visuals, language, and book construction in this art form.  The public is invited to a reception to meet the artists and view the exhibit on Friday, October 21, from noon to 2:00 PM.
Since their first exhibition at the Camden Public Library, four years ago, the Midcoast Maine Book Artists have continued to meet bi-monthly to share their work, invite other artists to discuss their work, take field trips, and otherwise create a community of book arts lovers who support and give advice to one another. Since their first exhibition they have shown their work again at the Camden Public Library, and at the Good Gallery in Rockport, Maine.
The theme of Unspoken Word is broad to include work about words as both objects and text, for both visual effect and literary meaning. Midcoast Maine Book Arts invited all of its membership to participate in the show and held a mentoring event to encourage those who are new to book arts or new to exhibiting their work to participate. This exhibition celebrates the diversity of MMBA's members' interests and experience. Exhibition artists include: Sissy Buck, Retta Clews, Karin Eberhardt, Avi Good, Nan Haid, Naomi Howe, Sal Kydd, Tara Law, Barry McCallion, Cynthia McGuirl, Karen Olson, Jan Owen, Abigail Read, Richard Reitz Smith, Sarah Strouss, Joelle Webber, Anastasia Weigle, Sandy Weisman, and Dudley Zopp.
Artists' books use the structure or function of the traditional book to express artistic ideas, and can have either the form of a traditional book or sculptural forms that incorporate images, calligraphy, experimental bindings, or mixed media. They can function as books, following a narrative page by page; or they can stretch the notion of what a book is, dancing around sculptural forms, unique constructions, with no narrative, and no words.
Artists' books can be composed of paintings, or incorporate photographs. They can be printed by hand, on the computer, or by letterpress. Artist books can be wildly different from one another and often not what one expects to see on the shelves of a library.
The exhibit is available for viewing in the library's Roland Howard Room during library hours starting October 3rd, subject to the Howard Room meeting schedule. For more information contact the library at 374-5515.