October 1, 2020 - December 31, 2020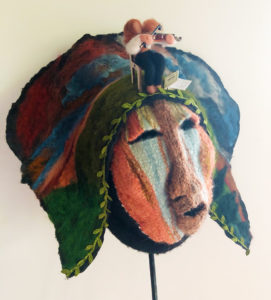 An exhibit of handwoven masks by fiber artist and author Susan Barrett Merrill will be displayed in the glass cases of the Howard Room from October 1 to December 31, 2020. The Story Tree is composed of seventeen handwoven masks, all with felted figures in their headdress reading books from the library, playing music or telling stories. Four of the figures are playing Mozart's string quartet in C major, one is making toast and reading a cookbook on whole foods while eating breakfast, another is a wind fairy flying on a swan.
Each piece is unique, handspun with wool, from Flat Island, off the coast of Addison. Susan dyes it with local plants and weaves it on an EarthLoom. The story of this process is included in the exhibit. The original sculpture (with its iron frame by blacksmith Joe Meltreder) is for sale. Proceeds from the sale of "The Story Tree" are shared between the artist and the library.