March 1, 2023 - March 31, 2023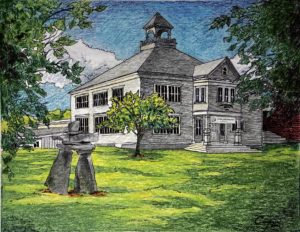 Russian artist and George Stevens Academy alumna Sofya Lantratova is currently exhibiting paintings and drawings in an exhibit called Maine's Prairies at the Blue Hill Public Library during the month of March. The exhibit includes ball point graphics, oil paintings, watercolor pencils, and gouache.
Lantratova graduated from the George Stevens Academy as a foreign exchange student in 2022, and is now studying architecture and art history at Ithaca College. She says that she became a nature admirer when she came to Maine, inspired by the wooded landscape which reminded her of her childhood home in southern Russia. About her artwork she says, "I want to bring a piece of nature to every home for when it is all around you, you feel more at peace with yourself."
According to Margret Baldwin who filled in at George Stevens in the art department, "the confluence of my roles as art teacher, retired art teacher, and exhibits coordinator at the Blue Hill Library, happened when I saw Sofya's student art work while I was subbing in the art room at the  George Stevens Academy. Among the outstanding work of the art students I was immediately impressed by the meticulous technique and emotional content of Sofyia's work. I was so happy to be able to offer her a solo show at the library as an "Emerging Talent", knowing that her nostalgic work would receive positive and encouraging response from this community in Maine, far from her home country."
The exhibit will be available for viewing starting March 1 in the Britton Gallery and Howard Room, subject to the Howard Room meeting schedule. For more information call 374-5515.