January 4, 2023 - March 31, 2023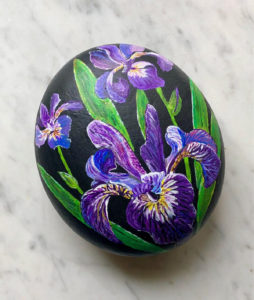 The Blue Hill Public Library has a new exhibit in the children's Larchwood case now through March– Painted Rocks, by Diane Woodruff. Diane says that she is a self-taught artist who has been painting as far back as she can remember, and as an outdoor enthusiast, she has always taken inspiration from the beauty and diversity of nature.
About this display, she says, "Inspired by my love of gardening, my most recent body of work consists of exquisitely detailed, realistic images of flowers painted on smooth, tumbled stones that my husband and I have collected over the years while hiking."
She begins by painting each stone satin black, which enhances their natural beauty and gives them a gem-like quality. She says that her floral compositions are driven by the size and shape of each stone, making each piece entirely unique.
According to Woodruff, she finds that painting on stones is "more challenging – and far more interesting – than painting on flat surfaces."
The show will be available for viewing during library hours through the end of March.