January 1, 2021 - January 31, 2021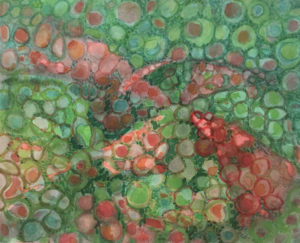 The library will host an exhibit, Outside/Inside: Natural Abstractions by Surry artist Cheryl Coffin, for the month of January. It is expected that the library will be closed to foot traffic for some or all of the month depending on the COVID-19 trends in Hancock County, but the show will be available for viewing in a virtual gallery below.
The show includes watercolor and acrylic paintings and water-based mixed media works on paper and canvas. These works comprise three series: the landscape of home here on the Blue Hill Peninsula; natural abstractions based on macroscopic and microscopic images that reside in both Cheryl's visual memory and in memories of her work as a physician over the decades; and spontaneous imagery that surfaced in reaction to the coronavirus pandemic.
According to Cheryl Coffin, "The visual memories created by decades of artistic exploration, observations of the natural world, and medical practice manifest both consciously and unintentionally in my work. The landscape, seascape, aerial topographic views, flora and fauna, and macroscopic and microscopic biological images are sources of inspiration and ongoing fascination. Images resembling cells or biologic structures often recur in my work, without an overt conscious intent and likely reflect my memories of patients and colleagues, my fascination with pathology, and the library of visual memories that have accumulated and evolved over the years."
A native of Bangor, Maine, Cheryl M. Coffin graduated with a B.A. in studio art from the University of Maine in 2020. Previously, she received an A.B. from Bowdoin College and M.D. from the University of Vermont. As a physician, she held faculty positions at the University of Minnesota, Brown University, Washington University in St. Louis, the University of Utah, and Vanderbilt University, where she is currently Professor Emerita of Pathology, Microbiology, and Immunology. Her artwork concentrates on drawing, painting, and printmaking. She draws inspiration from the landscape and seascape, aerial topographic views, macroscopic biological images and microscopic cellular images.