June 1, 2022 - August 31, 2022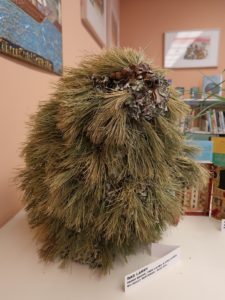 For the months of June through August visitors can view a new display in the Larchwood children's room from local artist Holly Bertrand. On display are sculptures of woodland creatures, handmade books and dioramas.
After retiring from a forty year Art teaching career, Holly spends her days hiking the Blue Hill Peninsula collecting natural objects to incorporate into her sculpture projects. While the base of her sculptures consist of recycled materials and paper-mache the surface textures consist of nature materials such as tree lichen, feathers, pine cone pieces and seed pods.
Holly's cigar box dioramas and bespoke books are mixed media pieces consisting of a collection of original paintings, prints and recycled materials/ephemera. Many of Holly's books were created while working with a group of talented local women Book artists who have encouraged and inspired one another for the past twenty-two years.
For more information, contact the library at 374-5515.