September 1, 2020 - September 30, 2020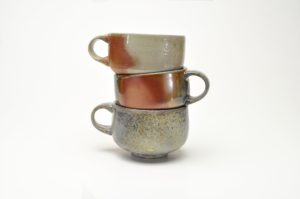 Surry Potters will be the focus of a new art exhibit in the Blue Hill Public Library's Howard Room glass cases during September. Five potters from Surry will show their work and pieces will be for sale with a portion of the proceeds going to support the library.
Vivian Pyle works primarily in porcelain, mixing her own glazes, and firing in an electric kiln. She says she enjoys creating a variety of repeatable signature tableware and also one of a kind pieces including lamps, vases and trays. Venues include studio sales, collaborative shows, the Blue Hill Farmers Market and experimental gallery shows in the U.S. and Russia.
A potter for nearly 50 years, Dennis Riley has had studios in Jackson, N.H., Castine, Orland, and Surry. He has exhibited at craft shows up and down the East Coast, and has been working at his home in Surry for 35 years. He works in low fire stoneware and traditional shapes.
Ellen Sedgwick has been making pots since 1998 and apprenticed with a few woodfire potters along the way. She has studied at both Penland and Haystack and taken various workshops over the years. She says that early on she was influenced by Hamada and Leach, and something of that essence seems to have remained to this day. Her dream to build an anagama kiln and become a full-time studio potter has been in the works for a long time. These days she keeps busy with her 3 children and throws pots and lays bricks for her kiln when she can.
Elise Teixido and Codey Stange built a wood-fired kiln in East blue in 2013 and have been enjoying living and making ceramics there ever since. Together they make detail oriented, functional pottery. They single fire for 72 hours around the clock using wood as their sole fuel source. This labor intensive style of firing creates one of a kind surfaces as the pots are decorated by the flame and ash. Together they strive to change the way people interact with everyday objects by creating thoughtful objects to last a lifetime.