June 1, 2021 - June 30, 2021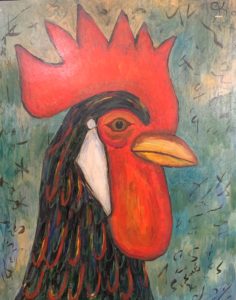 For the month of June, the retrospective on Blue Hill Artisan Eliot Sweet (1906-2000) will continue and expand beyond the Howard Room Glass Cases into the Britton Gallery. Curated by his granddaughter Kathleen Murray, this addition will include original paintings, carved wooden sculptures, and etchings. It will feature various pieces Eliot created throughout the course of his life showing his skill set and artistic talents.
According to Kathleen, "My interest in Eliot makes me chuckle a bit. I live with all of these various works of art and utilitarian pieces every day of my life. He was a very important part of Blue Hill while he was alive. Doing everything from making and upholstering furniture to carving birds and animals, in addition to being part of the art community from its birth. The majority of the show will consist of a myriad of crafted things made by my grandfather."
All are welcome to visit this retrospective exhibit in the Britton Gallery and the Howard Room.