September 1, 2022 - September 30, 2022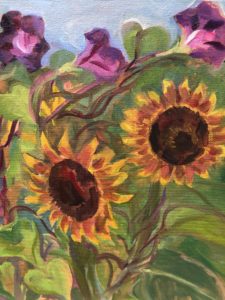 Artist Eileen Ahern will exhibit a collection of landscape and figure paintings at the Blue Hill Public Library during the month of September. The exhibit will include plein air and studio paintings. The public is invited to a reception with the artist on Saturday September 17, from 2:00 to 4:00 PM at the library.
Eileen Ahern is a multidisciplinary artist and educator based in Maine. Growing up the second of seven children in a small coastal town outside New Haven, CT, the academic community and the 1960s presented an environment that was often exciting and creative. Gifted at drawing, and a compulsive maker, she sold sculptures instead of lemonade on a folding table at the bottom of the driveway.
She completed a BFA at the School of the Museum of Fine Arts in Boston and Tufts University, studying French and Italian languages, drawing, painting and sculpture. She lived in Manhattan's East Village in the 1980's. Visiting Maine in 1989 resulted in exhibiting and working at Thistle Brown's Wingspread Gallery in Northeast Harbor, and meeting Sheila Varnum, of Rowantrees Pottery in Blue Hill. In Maine year-round since 1995, her work has been exhibited in Maine and nationally, and is in collections in the US and abroad.
Primarily a painter, she has also worked in, and continues to explore other media, including ceramics and textiles. She has had residencies in Mexico, France, Vermont, and Maine. About her work, Eileen Ahern says, "In my art, I try to grasp the essence of my chosen subject as a moment in time. I feel affection for what is right around me. I usually work quickly, striving to make the colors and marks both descriptive, and interesting in a painterly way. When it is right, it should "sound" right, like music."
The show is in the library's Britton Gallery and Roland Howard Room, available for viewing starting September 1st during library hours, subject to the Howard Room meeting schedule. For more information contact the library at 374-5515.