April 1, 2021 - April 30, 2021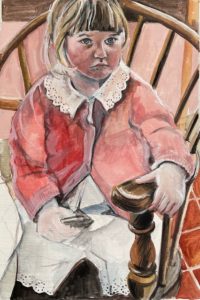 The library will host an exhibit, Connections, by mother/daughter artist team Penny Ricker and Melissa Rioux for the month of April. Pieces will be available to view in the Britton Gallery, Howard Room of the library and the Howard glass cases, along with a virtual gallery on the library website.
This exhibit will feature a diverse set of Penny's and Melissa's works including paintings in oil, acrylic, watercolor and egg tempera, in addition to handmade journals and sketchbooks. Also on display will be Melissa's collection of fine jewelry woven from silver chains.
According to Melissa, "Making connections during COVID has been hard, but creating with my mother, Penny Ricker, has both grounded and buoyed my practice. Whether weaving chains or painting watercolor landscapes, my work serves as a communication of love, intention or nostalgia."
About her artwork, Penny says, "This has been a year with many challenges and it has brought me to a deeper place in my art. It has forced me to see the interconnectedness of life and relationships, what is most important and why. Art has been a constant in the lives of myself and my children. It is one way that my daughter Melissa and I stay connected. I enjoy the collective creative energy of working with other artists."