May 2, 2023 - May 31, 2023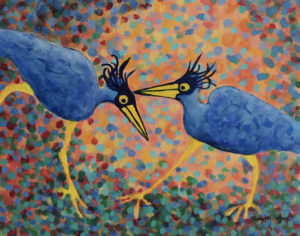 Surry artist Cheryl Coffin will exhibit recent paintings in a show at the Blue Hill Public Library, Outside/ Inside/ Again, during the month of May. Cheryl Coffin is generously donating all proceeds from the sale of the works to the library. The public is invited to a reception for the artist on Saturday, May 13 from 3:00 to 5:00 p.m.
The show will include watercolor and acrylic paintings and water-based mixed media works on paper and canvas. These works comprise three series: the landscape of home here on the Blue Hill Peninsula; the Great Blue Herons that migrate through our area or stay for the summer; and natural abstractions based on macroscopic and microscopic images that reside in both Cheryl's visual memory and in memories of her work as a physician over the decades.
According to Cheryl Coffin, "My life experiences have created a rich, deeply meaningful visual library which emerges both intentionally and unconsciously in my artwork. Growing up in the landscape of Maine has been a lifelong source of beauty and fascination, even when I lived away. My career as an academic pathologist led me into a different world of patients, colleagues, tissues, cells, biochemical and genetic concepts, and places."
A major theme for her recent works is the Great Blue Heron. The Blue Hill Peninsula is both a migratory pathway and a summer neighborhood for these birds. Cheryl says, "In the past two years, I have learned about two herons that scientists are tracking with electronic devices, Harper and Mariner, with whom I have serendipitous connections. Their dramatic migrations inspired me to imagine what sights and experiences they encounter, to explore those ideas artistically, and to consider how birds use their visual and spatial perceptions to make such deliberate, arduous journeys. The paintings in this exhibit are the colorful results of observation, imagination, exploration, and reflection."
The exhibit will be available for viewing starting May 2nd in the library's Britton Gallery and Roland Howard Meeting Room, subject to the meeting room schedule.