January 3, 2023 - March 31, 2023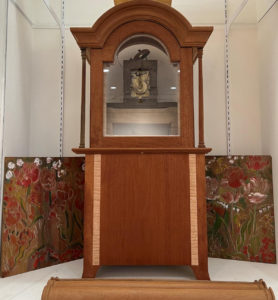 Through January to the end of March, the Howard Room Glass Cases will display an exhibit by local artist and craftsman Bruce Bulger. Made by combining his talents of woodworking, illustrating and metalsmithing, Bruce's collection features beautiful handmade sculptural pieces (in wood and metal) and his one of a kind dovetail boxes.
These cases show a lifetime of creative thought thru drawings, paintings, furniture and
sculpture. Each case is designed as a composition.
The boxes and sculptural pieces, show the versatility and high craftsmanship of Bruce
Bulger. He has combined his abilities as a master woodworker, illustrator and
metalsmith to make these one of a kind, special dovetail boxes. The different woods
used in these boxes are walnut, local ash, locust and oak. The inlayed and stamped
metals are brass, bronze, copper and silver.
This display is now available for viewing during the library hours, subject to the Howard room schedule. If you have any questions please call 374-5515.