November 1, 2020 - November 29, 2020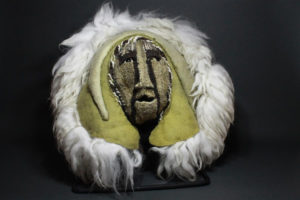 The library will host an exhibit, The Unbroken Thread, by fiber artists and weavers Susan Barrett Merrill and Susanne Grosjean for the month of November. For many years, these two artists have been traveling by boat to islands off the coast of Maine to join crews that shear island sheep whose wool is uniquely long and lustrous. They then dye their wool with local and garden plants, including indigo, madder root and weld.
Susanne Grosjean is known for her rug weaving as well as backstrap, band, card and floor weaving. She is foster mother to 43 spinning wheels. Susan Barrett Merrill weaves her wool masks into sculptures of personal mythology taking inspiration from ancient weaving designs and techniques, dream, myth and the history of spiritual quests throughout history. She has a concurrent exhibit in the library's Howard Room cases featuring a collection of these masks called The Story Tree.
The exhibit will be available for viewing during library hours starting November 2nd.