September 1, 2023 - September 30, 2023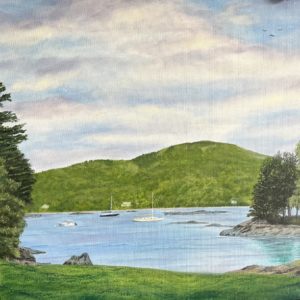 The Blue Hill Public Library is delighted to host a new group art show during September, Art on the Ridge, featuring works by residents of Parker Ridge Retirement Community in Blue Hill. Alongside selected pieces by former residents Paula Peer (1915-2014), painter Cliff Matthews (1928-2018), and graphic artist Dale Newman (1936-2022), Art on the Ridge includes something to delight everyone, and the artists invite you to come and experience it for yourself. Portions of the show in the Howard Room Glass Cases will remain on display through November 29. The public is also invited to a reception for the artists on Monday, September 25, from 4:00 to 5:30 p.m.
Since its beginning, Parker Ridge Retirement Community has included many artists among its populace.  Situated on a picturesque campus nestled among trees atop a blueberry ridge on the outskirts of Blue Hill, Parker Ridge has become an integral part of the greater Blue Hill Peninsula community.
Paula Peer, an early resident, was instrumental in establishing the Portrait Painters, a group of Parker Ridge residents and outside community members, who gathered weekly to draw and paint portraits with a live model. This group continued for many years until the interruption of COVID, but recently had resumed painting a couple times a month during the summer.
Today, Parker Ridge is home to a diverse group of professional and hobby artists and artisans pursuing a wide variety of art mediums. Tim Thomas, Cynthia Lay, Darrell McNatt, Carol Rivers and Hub White are all painters. Linda Abernathy, Sheena Macpherson, Jane Lawson, and Marilyn Miller create a variety of beautiful handwork including embroidery, quilting and needlepoint. John Rivers and Marshall Smith are both photographers. Barbara Haring is a professional potter.  Peggy Smith creates whimsical animals from driftwood.  Janet Pease and Louise McKinney are highly accomplished basket makers. Woodworker Bob Crosen crafts beautifully intricate boxes, and Pat White is a wet-felter who crafts exquisite wool hats and sculptures.
The exhibit will be available for viewing starting September 2 in the library's Britton Gallery and Roland Howard Meeting Room, with parts of the show in the glass cases continuing through November 29, subject to the meeting room schedule. For more information, call the library at 374-5515.