May 2, 2023 - July 31, 2023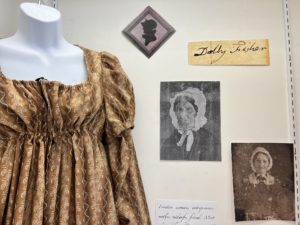 The Jonathan Fisher House presents an exhibit, "A Day in the Life of Dolly Fisher," at the Blue Hill Public Library, now through the end of July.  Frontierswoman, mother and midwife, entrepreneur, weaver, homesteader, friend, and wife to Blue Hill's first settled minister, Dolly Battle Fisher (1770-1853) arrived in town by ship in 1797. She settled into the small house her husband, Jonathan Fisher, built, gave birth to nine children, and made a good life for herself and her family.
Dolly lived a life of constant labor: child rearing, farming, food preparation, textile production, and entertaining fifty years' worth of guests, all while wearing a floor length dress! While Jonathan Fisher is one of Blue Hill's most well-known historical figures, thanks in large part to the vast quantity of writing he left behind, Dolly has remained largely unremarked upon. This exhibit showcases items and artifacts related to Dolly and the domestic responsibilities of her daily life, shining a spotlight on this remarkable woman.
Fisher wrote of Dolly, "the owner of neither external beauty nor riches, but, blessed be God! an economist and one who possesses a most amiable temper." From food production, preservation, and cooking, to creating textiles, hats, shoes, and buttons, to the important social work of hosting visitors and attending weddings, funerals, and other events as the parson's wife, Dolly likely saw as little rest as her famously active husband, turning the minimal resources available to her into enough to survive and raise her family.
While there is no known diary written by Mrs. Fisher, her husband Jonathan kept a journal of their life for 40 years. From these entries, as well as letters to and from her children and the objects she left behind, we glean a portrait of her experiences and those of countless women like her.
A talk about the exhibit will be scheduled for June. The exhibit is available for viewing during library hours, subject to the library's Howard Room schedule. The Jonathan Fisher House offers tours, lectures, and events to visitors and its community throughout the summer and early fall. The group's network of members and volunteers are dedicated to the preservation of Jonathan Fisher's legacy and its impact on local history.