May 2, 2022 - July 30, 2022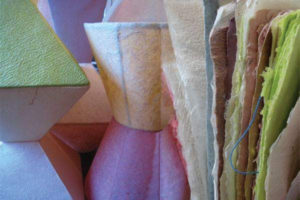 Blue Hill Public Library is now hosting a new exhibit in the Howard Room Glass Cases through the end of July—an intriguing look behind the scenes at Brooklin artisan Virginia "Gigi" Sarsfield's papermaking operation, along with a sampling of the lampshades that she makes from this special paper.  Gigi has been making paper for almost 30 years and has had a shop in Brooklin, "Handmade Papers," since 1999.  She also makes archival quality, artist grade papers and collaborates with bookmaker Joelle Webber who creates blank books from Gigi's handmade papers.
Gigi's favorite papermaking fibers are the Asian fiber kozo and the South American abaca "half-stuff". She says that she customizes her lampshades with vibrant colors or by "adding inclusions from my walks in the woods or along the shore—bits of cattail tuft, fallen lichens, or Irish moss."
As part of the exhibit there will be online videos that help show the process and will be accessible by QR code so that exhibit goers can watch them on their phones while viewing the exhibit.
The show is available for viewing in the library's Howard Room subject to the meeting room schedule.  A portion of the proceeds from sales will benefit the Blue Hill Public Library.  For more information contact the library at 374-5515.