Hi everyone! I hope your summer is going well so far. I know things are probably a lot different than how most of you anticipated them being, but I think it's good for us to try to make the best out of a less than thrilling situation. At the library we're trying to do just that by starting Summer Reading Bingo. This year is a little different from years past, as we won't be giving out traditional prizes, but we will do something positive and supportive for our community. This year for every bingo row you complete, you can choose a charity from the list below, and the Friends of the Library will generously donate $5.00 to them on your behalf:
In addition to that, we have two different bingo cards, one for Young Adults and one for Juvenile readers. You can register for Summer Reading here and receive an email with a PDF of the bingo card you choose, or you can stop by the library and pick up a physical card from Claire in the children's room or at the upstairs circulation desk.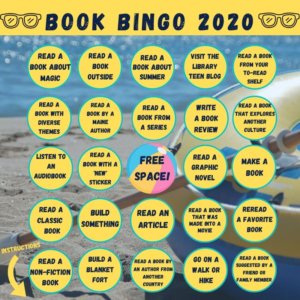 Now that we've gotten through the details, I thought this week would be a good chance to make some reading suggestions based on some of the bingo card prompts. This list won't be huge as it's just a starting point, but if you need other suggestions please reach out to me. I'd be happy to help you find something more suited to you.
Books with magic
Akata Witch by Nnedi Okorafor – Sunny, an American-born Albino child of Nigerian parents, taps into some magical powers upon a move from New York to Nigeria and finds that sometimes your greatest weakness can be your biggest asset.
Clockwork Prince by Cassandra Clare – A personal favorite of mine, this book takes the reader into Victorian England. Recently orphaned shape-changer Tessa Grey finds herself tied up in the battle between Shadowhunters and demons. This book is full of magic, mischief and love.
Hunted by Meagan Spooner – A telling of a classic fairytale with a new twist. Hunted features a unique take on the story of Beauty and the Beast while still having a story brimming with magic, curse and mysterious creatures.
Books by Maine authors
Carrie by Stephen King – High school can be tough, but it's even worse when you have uncontrollable telekinetic powers. This spooky story is Stephen King's first published novel and a great introduction to his masterpieces.
Enchantee by Gita Trelease – Historical and magical, Enchantee follows Camille as she uses forbidden dark magic to make herself into a Baroness and is swept up in the life and magic of the royalty at the Palace of Versailles. As the Revolution starts and Camille loses control of her secrets, she has to make a life-altering choice before Paris is burned to the ground.
The Lies They Tell by Gillian French – Set in Maine, a mysterious fire reduces a prominent, wealthy family from five to one. There are whispers that Pearl's dad, the old caretaker of the property, caused the fire, but Pearl is determined to uncover the truth. Mysterious and twisty, this book will leave you guessing until the end.
Books about summer
The Sisterhood of the Traveling Pants by Ann Brashares – I love this book (series). This was quintessential summer reading material for me when I was in high school. Bridget, Carmen, Lena and Tibby are spending the summer apart for the first time ever and are wondering how they're all going to stay close, when they find a pair of pants that fits them all perfectly. This story is a beautiful one of friendship, summer adventures and growing up.
When Dimple Met Rishi by Sandhya Menon – Dimple has it all figured out and is thrilled to be going to a summer program for aspiring web developers, it will be a nice break from her parents insistence on finding her a husband. What she doesn't know if that there is a boy there that thinks she's his fiancé and plans to woe her. This is cute, lighthearted romance that's sure to make you smile.
Camp So-and-So by Mary McCoy – 25 girls get invited to a summer camp that doesn't actually exist. When they get there, strange, mysterious things start occurring, startling the girls and leading readers through puzzle after puzzle as you try to figure out exactly what is going on with Camp So-and-So.
Books with diverse themes
With the Fire on High by Elizabeth Acevedo – Emoni Santiago is a senior in high school, has a daughter to take care of and has to help support her abuela, so the only place she can really let go is the kitchen. Her cooking is near magical, and even with the weight of everyone's expectations upon her, she can't help but let her skills shine.
Patron Saints of Nothing by Randy Ribay – 17-year-old Jay is set to spend his summer before college relaxing and playing video games. However, when his cousin is killed in the war on drugs, Jay heads to the Philippines to learn more. This book is about guilt, grief and the risks this boy will take to uncover what happened to his cousin.
Tash Hearts Tolstoy by Kathryn Ormsbee – Tash has found herself suddenly thrust into internet fame because of her web series "Unhappy Families," a modern adaptation of Anna Karenina. The limelight brings its own set of challenges as she tries to keep up with demand and figure out how to tell the boy she's been cyber-flirting with that she's asexual. Ultimately a cute, lighthearted, yet diverse story.
As I mentioned earlier, I've only covered a few of the bingo prompts here, but I think this is a decent list to help get you all started. I'll share some more recommendations next week and you're more than welcome to reach out to me for personalized suggestions in the meantime. You can either email me at kendall.chapman@bhpl.net or call 374-5515 ext. 22, I'm more than happy to help.
Happy summer reading!