Hi everyone! Ruth Slaven Teen Services Librarian Kendall here. I've had a lot of conversations with various library staff members about how quickly life has changed for us all, how all of our lives have been impacted differently, but most of all how we can still serve our patrons and community during this time.
As I chat with my co-workers and hear the snippets of their daily lives and share bits of mine with them, I can't help but think that maybe this is something everyone else needs too. It's my belief that, now more than ever, our community needs to be together though physical distance keeps us apart, which is why I'm kick-starting this new program where you can share your stories with the library, the community and me.
Life is different, that's one thing we all know, but it's drastically different for each person, family, workplace, etc. Everyone is relying on stories in one format or another to get them by and to look back on fondly when this is all over. So, what I'm asking is that you write down your story to share with others.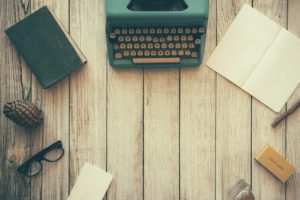 Write about what's happening in your day to day life, write a poem about what you're experiencing or write a fictional story just for entertainment, include photos if you so desire. Be creative! Then submit your work to us HERE. I'll review each submission as it comes in, verify with you that I received it and notify you of when it will be available to read here on the blog. Happy writing!
Here are some ideas to get you started:
What change has brought the biggest impact to your life?
How are you staying touch with loved ones?
What positive things do you find happening during this time?
How has the pandemic changed the way you view the world?
What is something you would want historians to know?
What kind of community/world do you hope to see when this is all over?
How have you been staying busy?
What do you miss most about life before COVID-19?
Tell a story about this situation from the perspective of your pet.
Write out your thoughts as they come to you throughout the day.
Write a humorous log of your daily activities.
Write a letter to the community and your wishes for them.
Pretend this is all fiction and you're the hero/heroine of a dystopian novel.
Tell us how your week is going.
Please keep in mind that these pieces will be made available for public consumption. If you'd like to share with the library staff only, make a note of that when you submit your piece. We're all looking forward to seeing what you come up with.