March 1, 2017 - March 31, 2017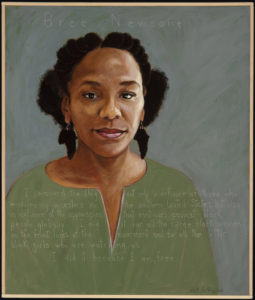 During the month of March at the Blue Hill Public Library, Brooksville artist Robert Shetterly will exhibit recent paintings in his portrait series, Americans Who Tell the Truth. The portraits have all been done in the last year or so and include civil rights activist Bayard Rustin; the woman who climbed the flagpole at the state capitol in South Carolina to take down the Confederate flag, Bree Newsome; Indigenous rights activist Sherri Mitchell; and founder of the Bread and Puppet Theater, Peter Schumann.
According to Shetterly, the Americans Who Tell the Truth project sprang out of his reactions to 9/11 and the "manipulative use of the attack as a basis for the Iraq war." "I began painting this series of portraits — finding great Americans who spoke the truth and combining their images with their words — as a way to channel my anger and grief. In the process my respect and love for these people and their courage helped to transform that anger into hope and pride and allowed me to draw strength from this community of truth tellers, finding in them the courage, honesty, tolerance, generosity, wisdom and compassion that have made our country strong."
His paintings from the series have been traveling around the country since 2003, and they now number over 220. Venues have included everything from university museums and grade school libraries to sandwich shops, the Cathedral of Saint John the Divine in New York City, and the Superior Court in San Francisco.
The portraits have also become the basis of the state-wide educational initiative offered by the Maine Association for Middle Level Education, the Samantha Smith Challenge. It is named for a little girl from Maine who initiated a peace making venture to build bridges between the American and Russian peoples and was later killed in a plane crash.
The exhibit will be available for viewing during regular library hours starting March 1st. For more information, call the library at 374-5515, or see www.americanswhotellthetruth.org.